Officer Memorial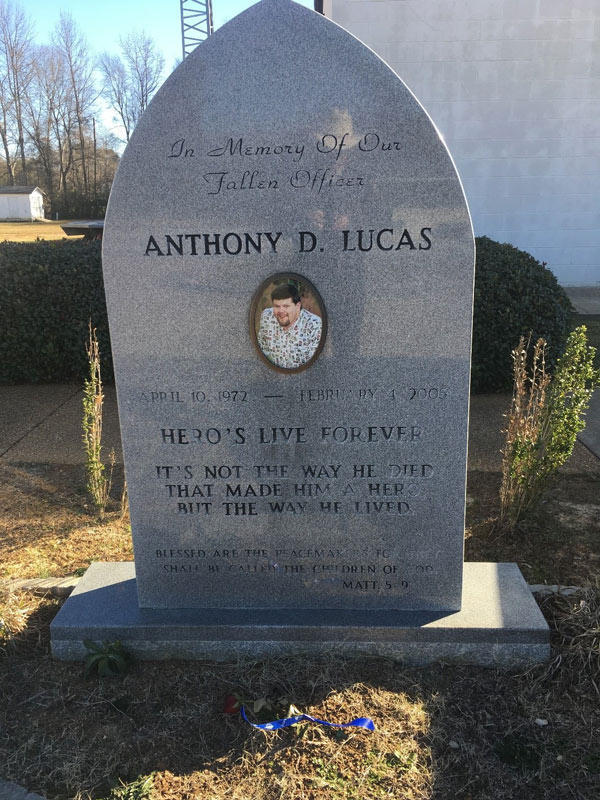 Choctaw County Sheriff's Office
Anthony D. Lucas, MDOC Probation Officer & French Camp Police Chief
Age: 32
Years of Service: 7 years
End of Watch: Friday, February 4, 2005
Cause: Gunfire
---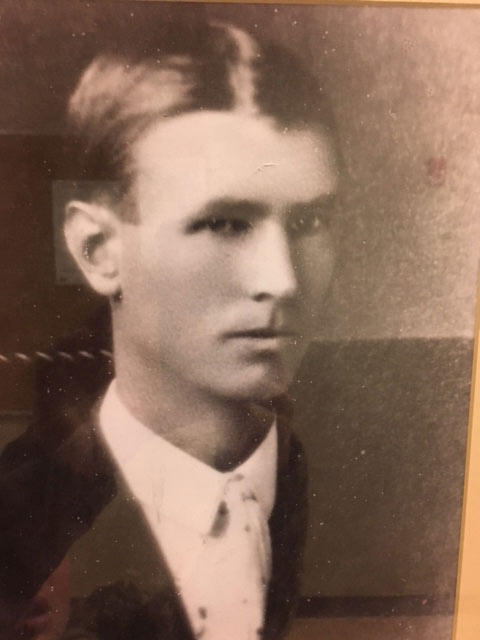 Forrest County Sheriff's Office
Howard Lee Hagwood
End of Watch: Thursday, September 15, 1927 (died on Saturday, October 1, 1927)
Cause: Hit by a train
---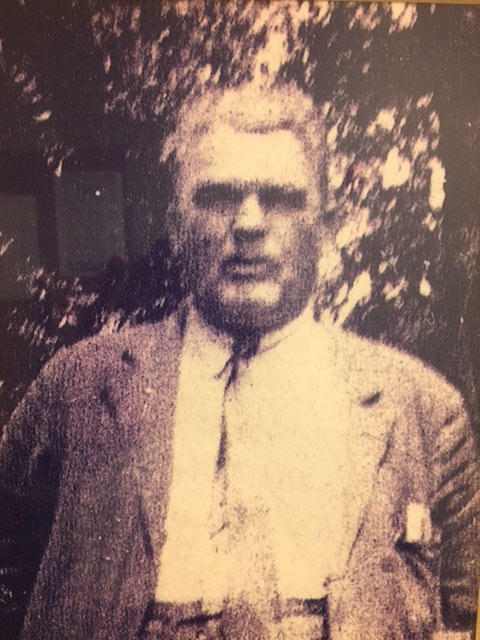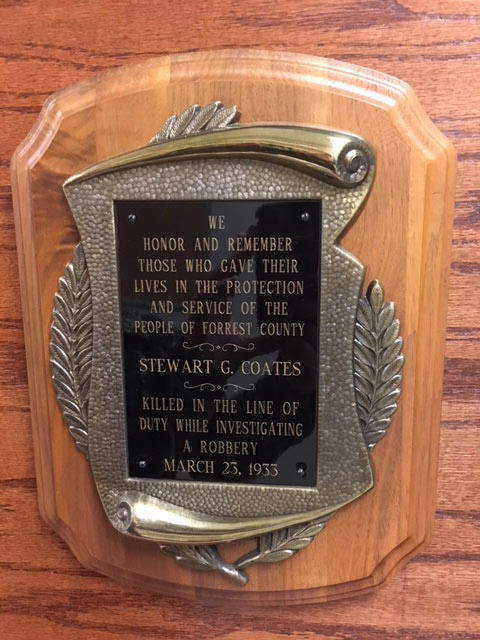 Forrest County Sheriff's Office
Stewart G. Coates
End of Watch: Thursday, March 23, 1933
Cause: Gunfire
---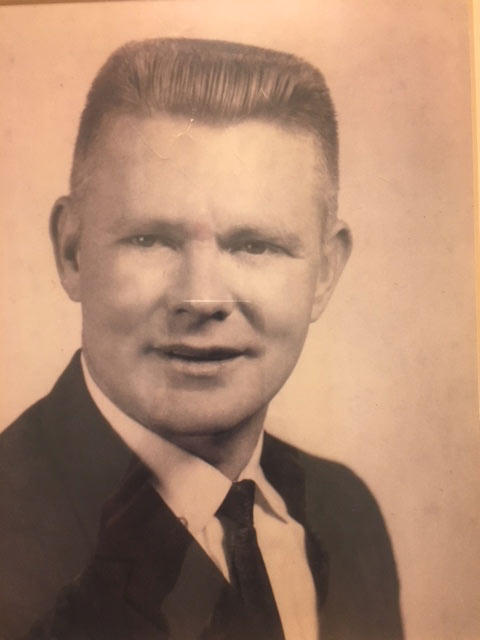 Forrest County Sheriff's Office
Frederick (Cotton) Humphrey
End of Watch: Friday, March 26, 1965
Cause: Traffic stop
---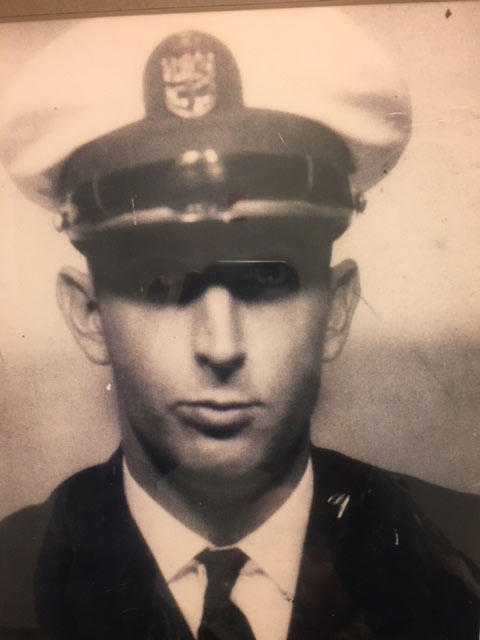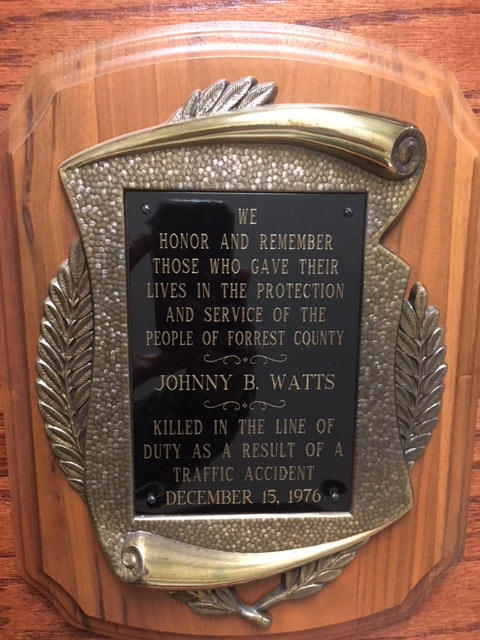 Forrest County Sheriff's Office
Johnny B. Watts
End of Watch: Wednesday, December 15, 1976
Cause: Traffic accident
---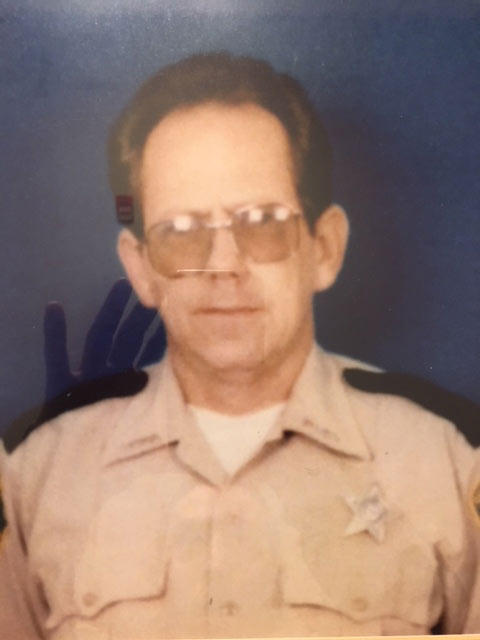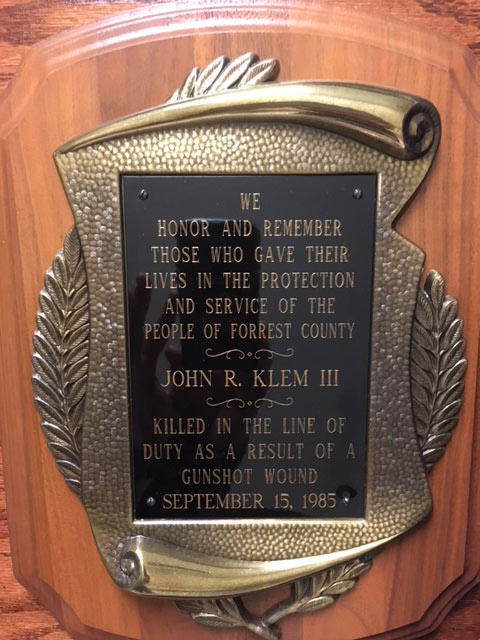 Forrest County Sheriff's Office
John R. Klem, III
End of Watch: Sunday, September 15, 1985 (died Monday, September 30, 1985)
Cause: Gunfire
---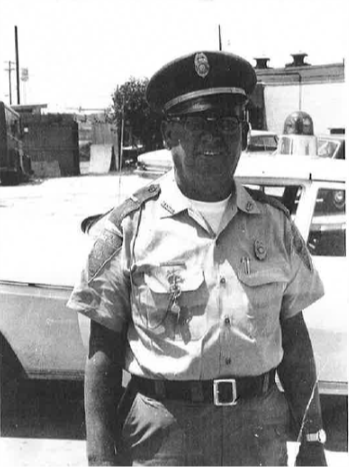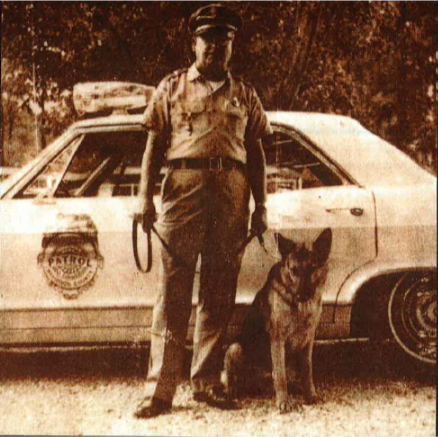 Harrison County Sheriff's Office
Deputy Earl Wesley Phillips
End of Watch: Monday, February 19, 1973
Description: Patrolman Earl Phillips was shot and killed after stopping a juvenile he observed speeding in a suspicious car on Landon Road north of Gulfport, Mississippi.
At the time of the murder the suspect was AWOL from the US Army. He had returned to his home county and was staying with his parents. Prior to the murder he had been told Deputy Phillips had been asking about a vehicle that matched the description of the one the suspect was driving. The suspect told several people if he came into contact with Deputy Phillips or any other officer he would kill him.
On the day of the murder Deputy Phillips was on patrol and passed the suspect, who was driving the suspicious vehicle. Deputy Phillips turned around and began pursuit of the suspect, which ended when the suspect wrecked his vehicle.
Deputy Phillips came upon the crash, exited his patrol car and went to check on the suspect. The suspect exited the overturned vehicle and shot Deputy Phillips in the abdomen once with a shotgun loaded with #1 buckshot. Deputy Phillips, who was unarmed at the time of the incident, died at the scene.
The suspect fled in the patrol car and made his way back to his parents' house. He was arrested there by officers a short time later and confessed to the murder after being encouraged to do so by his father. He was sentenced to life in prison.
Deputy Phillips had served with the agency for 20 years.
---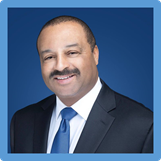 Hinds County Sheriff's Office
Sheriff Lee Dan Vance
End of Watch: August 3, 2021
Complications of Covid-19
---
Kemper County Sheriff's Office
Constable John O'Brien
End of Watch: 1906
---
Kemper County Sheriff's Office
Sheriff Michael McKee
End of Watch: 1997
---
Kemper County Sheriff's Office
Deputy William Walters
End of Watch: 2007
---
Leflore County Sheriff's Office
Deputy Melvin "Buster" Brown, Jr.
Age: 45
End of Watch: Monday, April 18, 1994
Description: Deputy Melvin "Buster" Brown, Jr. was shot to death while investigating a domestic complaint near Itta Bena in Leflore County.
---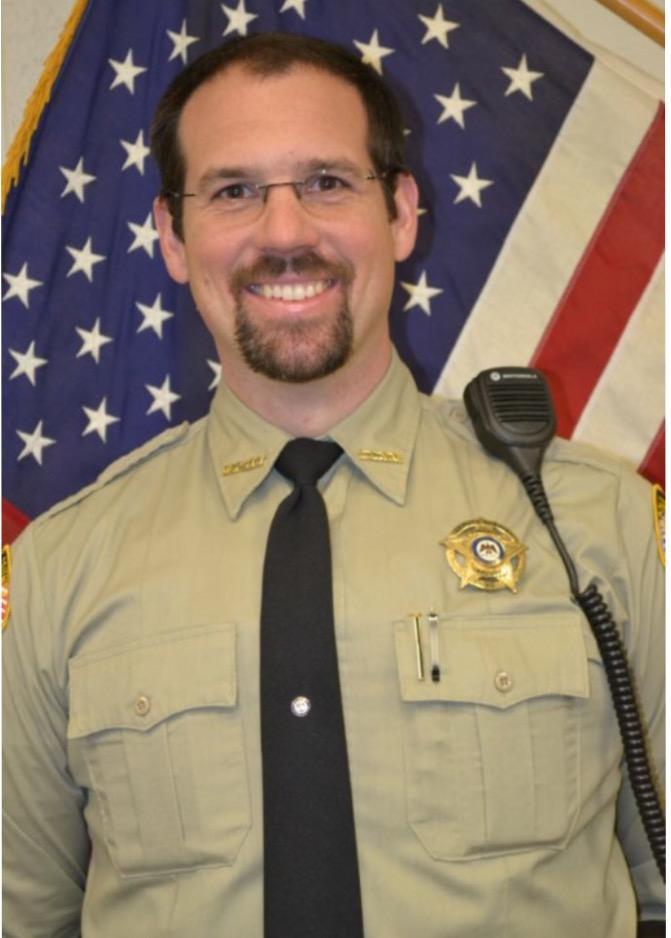 Lincoln County Sheriff's Office
Deputy William Durr
Brookhaven, Mississippi
End of Watch: Sunday, May 28, 2017
Deputy William Durr died in the line of duty on May 28, 2017. Deputy Durr responded to a call on Lee Drive regarding needing a male subject removed from the property. The male subject shot and killed Deputy Durr and went on to kill 7 more individuals before being arrested that morning.
Born with a soul that had the Courage to wear the Badge, Deputy Durr had been saving, serving, and protecting the People as a Law Enforcement Officer for 4 years. He worked with the Lincoln County Sheriff's Office for two years. Prior to coming to work at the Sheriff's Office, William worked at the Brookhaven Police Department. He had recently completed the DARE officer training and was set to begin working with the kids later that year. He had a love for God, his family and working with kids in the community. William leaves behind his beloved wife, Tressie, his son Nash, his mother Debbie and sister Megan.
Our Brother, as you now patrol the streets of Heaven, may you continue your vigilant watch over us all as we carry on In Our Brother's Honor. We thank you for your service and for your sacrifices. We thank you for your life. Job well done sir.
---
Madison County Sheriff's Office
Deputy Sheriff William Lonnie Wadford, Jr.
End of watch: March 08, 1979

On March 8, 1979 at approximately 1:00 AM Deputy Sheriff William L. Wadford, Jr. stopped at Club 16 located about two and a half miles east of Canton, Mississippi and parked near the front door of the club. While he was inside, a white male took a gun from the deputies patrol car, entered another vehicle and proceeded east on Highway 16.
Deputy Wadford was notified and discovered a .357 revolver missing. Given the description of the suspect's car, he and Jackie Mathews, owner of Club 16 left in the Deputy's patrol car in an attempt to catch up with the suspect. Deputy Wadford called the Canton Police Department and requested them to give the suspect vehicle description to any law enforcement units around the Leake/Madison County line on Highway 16.

Approximately six miles east of Club 16 Wadford and Mathews came up behind a vehicle matching the description they had been given and attempted to stop it. The vehicle failed to stop for over a mile, then pulled to the right shoulder of the roadway. As Deputy Wadford approached the white male in the suspect vehicle, the man fired four shots, all hitting the Deputy in the upper chest. Mr. Mathews fired at the suspect's vehicle with a shotgun from the patrol car and knocked the back window out of the vehicle as he left the scene. Mr. Mathews then used the patrol car radio to call for help.

A few miles farther east, Mississippi State Highway Patrolman Larry Greer heard the report of the shooting and set up a roadblock. The first car to approach drove up to the roadblock and the white male driver immediately raised a pistol and shot Greer twice. Patrolman Greer fell to the highway as the suspect sped off. Patrolman Greer was found lying in the highway by two passing motorists, one a medical doctor. Dr. Prater was able to stabilize Greer while Mr. Lofton drove them to the hospital in the patrol car.

At approximately 2:25 AM Mississippi Highway Patrolman Johnny Frank Smith spotted a vehicle matching the suspects description on Highway 35 in Leake County. Upon further investigation, he observed the rear window was shattered and requested backup. The responding units followed the vehicle until it pulled into a vacant store parking lot and the driver jumped out and began running. The officers were able to apprehend the suspect without further incident and identify him as George G. Mansell. He is currently still serving time.

Patrolman Greer recovered from his wounds.

Deputy Wadford was survived by his wife Dorothy Sue Wadford and one son, William Glenn Wadford, age 17.
---
Madison County Sheriff's Office
Deputy Sheriff Thomas M. Plummer, Jr.
End of Watch: September 17, 1944

Canton and Madison County were deeply shocked Sunday night by the tragic killing of a brave and deservedly popular deputy sheriff, T. M. (Tom) Plummer, Jr., 37.

Deputy Plummer was shot and almost instantly killed in the roadway in front of his home in South Canton Sunday night at 8:20 o'clock. After being mortally wounded he shot and killed his assailant, Woodrow Wilson McClure, 25, a Madison county raised mulatto, recently returned from Chicago for a visit with his family.

Deputy Plummer and his eleven-year-old son had been out in the country and had just returned home. The boy had gone in the house and his father was backing the car out into the street when a car occupied by McClure almost collided with the deputy's car. The driver of each car got out and the officer is said to have remonstrated with McClure about his reckless driving. McClure fired two or three shots from a .25 caliber automatic pistol and one shot entered Plummer's heart. He lived long enough to kill his assailant, whose body was found four hours later in a ditch across the street from where Deputy Plummer fell.

During the hours between the time of the shooting and the finding of McClure's body, one of the most intensive man hunts ever staged in Madison County was in progress. All roads were carefully guarded and Sheriff Al Hardy, Chief of Police Dan Thompson and their entire forces and most of the State Highway patrolmen within a radius of a hundred miles were directing the search. Bloodhounds were sent for and posses formed. During all of which time the body of the object of the search was lying dead in a narrow grass grown ditch within thirty paces of where he had fired the shot that killed Deputy Plummer. There he was found at 12:00 by Mr. Fay Moody and Mr. Allen McBroom, who had been with others guarding a cross roads and had returned to get a report on developments. The individual's wrist watch had been shattered by shotgun pellets and had stopped at 8:20. He had received a shotgun charge in the heart and had a sprinkling of shot wounds in the left side. In his hand was the small automatic with several loaded cartridges still in the magazine. A coroner's inquest returned a verdict Monday morning that he came to his death from gun shot wounds at the hands of Deputy Plummer after the deputy had first been mortally wounded by the deceased.

Following the shooting Deputy Plummer was rushed to the King's Daughters hospital and died soon after reaching there. He is survived by his wife, Mrs. Annie Laurie Sutherland Plummer and three children, Dorothy Anne, 13, Thomas M. Plummer, III,11, and Johnnie, 8. Also surviving are his parents Mr. and Mrs. T. M. Plummer, Sr. of Canton; one brother, Lt. (jg) Fred Plummer, of Atlanta, Ga.; and three sisters, Mrs. Edwin Law of Canton, Mrs. David McSwain of New Augusta, Miss., and Mrs. F. W. Lovelace of Franklin, Tenn.

Deputy Plummer was a lumber inspector of the Denkmann Lumber Company at Canton for eight years. He was with the State Highway Patrol for five years and resigned last year as Captain of the Patrol to run for sheriff of Madison County. Though defeated, he was appointed deputy sheriff by Sheriff Al Hardy.

NOTE: The above article was taken from the September 22, 1944 Madison County Herald.
---
Madison County Sheriff's Office
Sheriff Marion F. Simpson
End of Watch: September 04, 1959

That dangerous strip of Highway 51 between Canton and Jackson where numerous others have lost their lives over the years, claimed for death Marion F. Simpson, sheriff of Madison County and one of the county's most widely known and respected citizens, early Friday morning, September 4.

Deputy Sheriff Billy Noble, who is the sheriff-elect, said that Sheriff Simpson had left the courthouse office at about 10:00 Thursday night. They had discussed an investigative trip to Tougaloo in the continuing search for two individuals who had been involved in the near-fatal beating of Constable E. B. Cauthen, near Camden, on July 27. He presumed that Sheriff Simpson was returning from Tougaloo when the fatal accident occurred about 12:30 Friday morning.

A group of Canton college boys and girls reported Sheriff Simpson passing them at a moderate rate of speed about one mile south of the spot where the wreck occurred and about 20 minutes before the reported time of the wreck.

At 12:30 Friday morning, the 1957 Buick Roadmaster driven by Sheriff Simpson smashed squarely into a concrete bridge abutment, hurtled into the air, and into the path of a Delta Motor Lines truck, driven by J. M. Matthews. The car totally demolished, landed upside down on the highway, and Mr. Simpson was killed instantly.

Mrs. Simpson was the former Frances Hill. Sheriff Simpson is also survived by one daughter, Lorraine, 11.

Other survivors include a sister, Mrs. Julia Robinson of Canton, and two brothers, Joe Simpson of Hattiesburg, and Rimmer Simpson of Gulfport.

Mr. Simpson was probably the most popular public figure in Canton and Madison County. He had served seven years as mayor of Canton before being elected as Sheriff in 1955. He had been elected twice as county tax assessor when he resigned, in 1941, to volunteer in the U. S. Navy. He served in the South Pacific during World War II. He was 53 years old.

His service as mayor of Canton from 1948-1955 was given much credit for the progressive period in the city's history which saw the community grow in industrial development and in improvement of city services.

Mr. Simpson was noted for his forthrightness, his extreme frankness and strong stands on every public issue. He was one of the organizers of the local Citizens Council and remained as one of its most active leaders, also serving on the Executive Committee of the state association of Citizens Councils.

NOTE: This article was taken from the September 10, 1959 Madison County Herald.
---
Marion County Sheriff's Office
Sheriff J.V. Polk
End of Watch: Friday, April 22, 1960
---
Marion County Sheriff's Office
Deputy Jerry Bryant
End of Watch: Thursday, January 5, 1984
---
Marion County Sheriff's Office
Deputy Edgar Harrell
End of Watch: Sunday, June 1, 1997
---
Marion County Sheriff's Office
Deputy Vernon L. Long
End of Watch: Saturday, August 31, 2002
---
Prentiss County Sheriff's Office
Deputy Sheriff Michael Dale Hisaw
End of Watch: Thursday, March 11, 1999
Cause: Gunfire
Age: 27
Years of Service: 3
Description: Officer Hisaw was making a felony traffic stop of a suspect involved earlier in a 911 disturbance call. As Deputy Hisaw approached the vehicle, the suspect shot the officer three times. The suspect then returned to his own residence and committed suicide. Deputy Hisaw was survived by his parents Jerry and Jo Carol Hisaw and a Brother.
---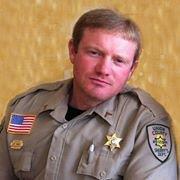 Union County Sheriff's Office
Deputy Clinton H. Frazier
Start Date: January 2012
End of Watch: Wednesday, December 18, 2013
Cause: Vehicle Pursuit